About Magic Valley Medicine and Quicker Care in Twin Falls, ID
At Magic Valley Medicine and Quicker Care, we provide a wide variety of urgent care, family care and chiropractic services. For more information, Call us today or visit us online to request a consultation! We are conveniently located at 844 North Washington St. Suite 400 Twin Falls, ID 83301. We serve patients from Twin Falls ID, Kimberly ID, Filer ID, Hansen ID, Buhl ID, and Jerome ID, and BEYOND.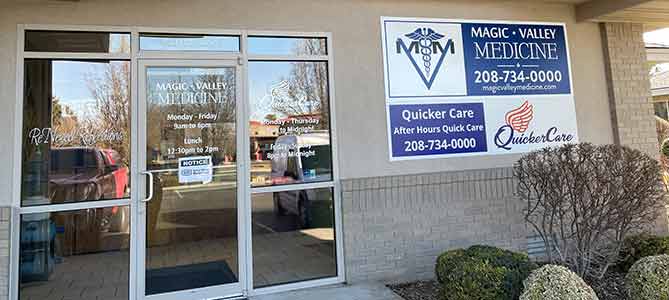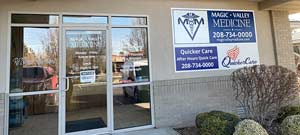 Sam has been practicing in his hometown of Twin Falls, Idaho, since 2006. He maintains dual licensure as a Chiropractor and Certified Nurse Practitioner. This gives him full authority to write medications and give adjustments.
Our Goal is to get you feeling better faster, for cheaper, and with less visits
What makes us different from other chiropractors?


Most Chiropractors will require you to come into their office 3 times a week to fix your neck or back pain, or they will tell you that they can stop the progression of the arthritis in your spine by getting adjusted for the rest of your life. That is simply not true and Sam does not agree with those people. Here is what we do in our office:​

Sam will find the source of the pain, adjust the spine to restore proper motion to the joints, and use therapies to loosen muscles and prevent spams. If medications are necessary he will prescribe a muscle relaxer, and send you home with some exercises to stabilize the joint. Lastly, if you re-injure yourself in the future you can call the office and make an appointment to be seen again. ​

Most of our patients are better in 1-3 visits and give us a call maybe 2-3 times a year. Our goal is to keep you feeling so good you stay out of our office, not live in it. We want you to feel as good as possible, as quick as possible, and for as cheap as possible, and you can tell people that the little bald guy is the best Chiropractor you have ever seen.